Championing women since 2007
Reason to Run is a non-profit organization that exists to create a culture of hope, connection, and community. This is accomplished through a multifaceted training program designed to encourage and support both new and experienced runners. This program has been implemented at Coffee Creek Correctional Facility (CCCF) in Wilsonville, Oregon.  
This Reason to Run Program at CCCF began in 2015. The involvement and impact has been remarkable. Over 900 adults in custody have trained in the program and more than 280 post-release run care packages (running shoes, running bra, and socks, etc.)  have been provided to women who are taking this practical training and implementing it into their life rhythms after ending their time at CCCF.
While the primary focus of the running program is physical fitness, participants are encouraged to explore how running positively impacts mental health, goal setting and accountability. All participants are encouraged to support and assist other group members to reach their goals.
The program entails weekly outdoor group training sessions (60 - 80 minutes) in which all participants are invited to attend. Training sessions occur in tandem with keeping a running journal and completing mid-week personal training goals.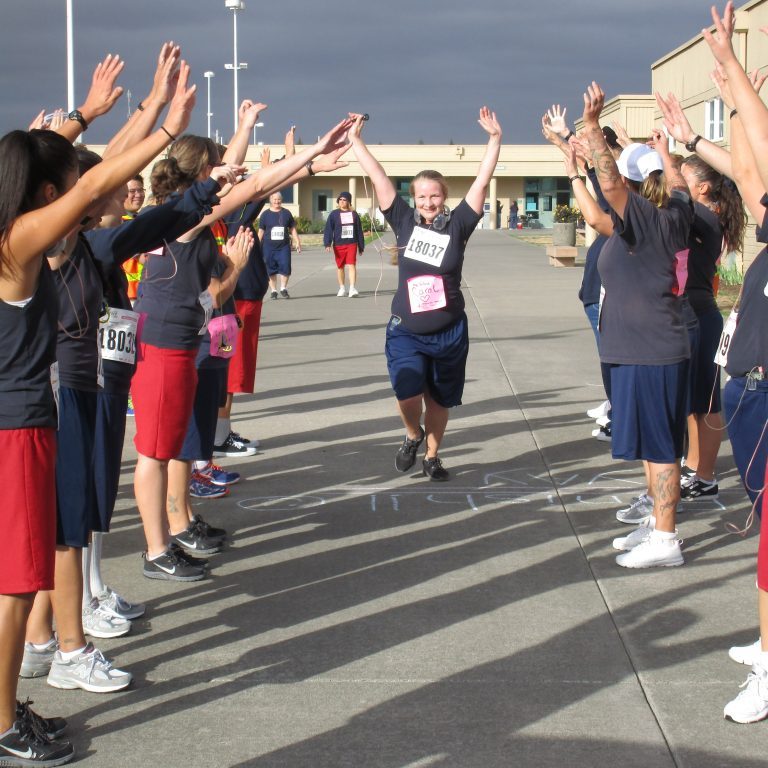 Training can be arduous, but we have found that it can also be fun! During training intervals, inmates cheer one another on, run in pace groups, and work together to accomplish boot camp exercises. Each session ends in a group huddle where inmates stretch and cool down as well as connect over shared training information for future training sessions.
All women are welcome! This program is not only for the experienced runner. This training program exits to aid those women looking to establish healthy habits and routines needed in creating an active lifestyle. Currently, our eight week run program is designed for the non-runner. Meetings occur once a week for coaching and informational sessions. Participants start their fitness journey with a 20-minute workout and by the completion of the program are able to walk and/or run a 5K race.
Experienced runners are welcome and encouraged to join. Weekly running sessions are adjusted for their skillset.
Informational mini-clinics are held weekly, covering the following topics:
Injury Prevention

Injury Recovery

Strength/Cross Training

Nutrition and hydration

Running Clothing and shoes

Inspiration
Races are run on a paved track within the prison yard.
9 laps = 1 mile

5K = 28 laps

10K = 56 laps
Each eight-week training program finishes with a 5K race celebrating the hard work that has been accomplished. Race participants receive a race bib, post-race fruit and a certificate with their race time. Peers and friends are encouraged to cheer and support the racers
Race for the Cure Inside 5K
In the past, Reason to Run has partnered with Race for the Cure. Adults in custody register for the race and receive a numbered bib that they wear while running laps around the prison yard. This race is called Race for the Cure Inside. Adults in custody donate between $5 to $10 to participate in this event. Onlookers cheer on participants from the sidelines.
In the past years over 300 adults in custody have participated in Race for the Cure Inside and have raised more than $1,500 toward furthering breast cancer research. Planning is already underway for the fifth annual Race for the Cure Inside!
Join our Facebook page for regular updates and event happenings. We invite you to partner with us in cheering on these adults in custody in establishing healthy rhythms for their future.